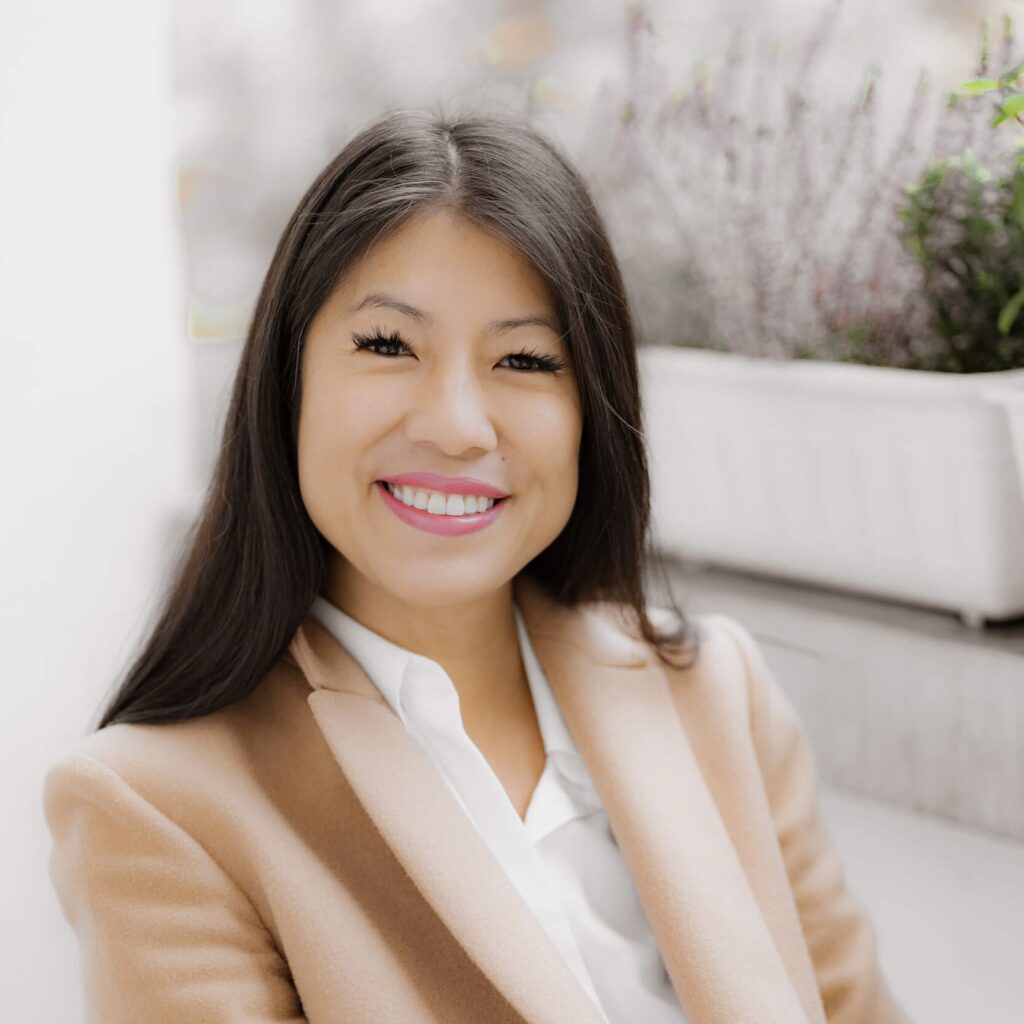 Hello fellow human. I'm Jenn.
Are you ready to make a BIG ASS change?
Feeling stuck? Lost?
Have BIG dreams to do BIG things, but need a guide and a plan to help you design the life + work you dream of? 
tell me more
I'd love to hear your story and how I can help.
Does this sound like you?
You have ambitious dreams for your life + work, and realize that you have to make a BIG ASS change to get there. Any of the below sound like you?
  You're a High-Achiever who appears to be kicking ass at life to everyone on the outside, but you lay awake tossing and turning at night feeling that something BIG is missing. Maybe love, self-love, or a career you love...
  You're a successful Entrepreneur, but don't feel like there's enough balance in your life to make room for other things that make you happy. You realize that burning yourself out is not the way to becoming your best Future Self.
  Your startup or corporate job (& maybe even your boss) are sucking the life out of you. You want to design a more meaningful career that lights you up. And back it up with the clarity + confidence to boldly ask for what you want.

  You're a Founder or Leader who wants to positively influence your team. You want to be empowered to communicate more effectively, trust in your decisions, and grow--both yourself and the business. 
  You realize that it's finally time to work on your boundaries and reclaim your time and energy so that you can prioritize your own needs, health, and well-being. You want to step into your personal power and uncover your Authentic Self. 
If any of that resonates, I feel you-- I've been there too. Luckily, I found coaches who guided me through. They helped me on my own journey to find self-worth, design a career that lights me up, and thrive in a healthy relationship with the partner of my dreams.
And now as an Empowerment Coach, I can't wait to empower you to change your life too. Change doesn't have to be scary and chaotic, if you can get the right support.
WHO I AM AS A REAL HUMAN & COACH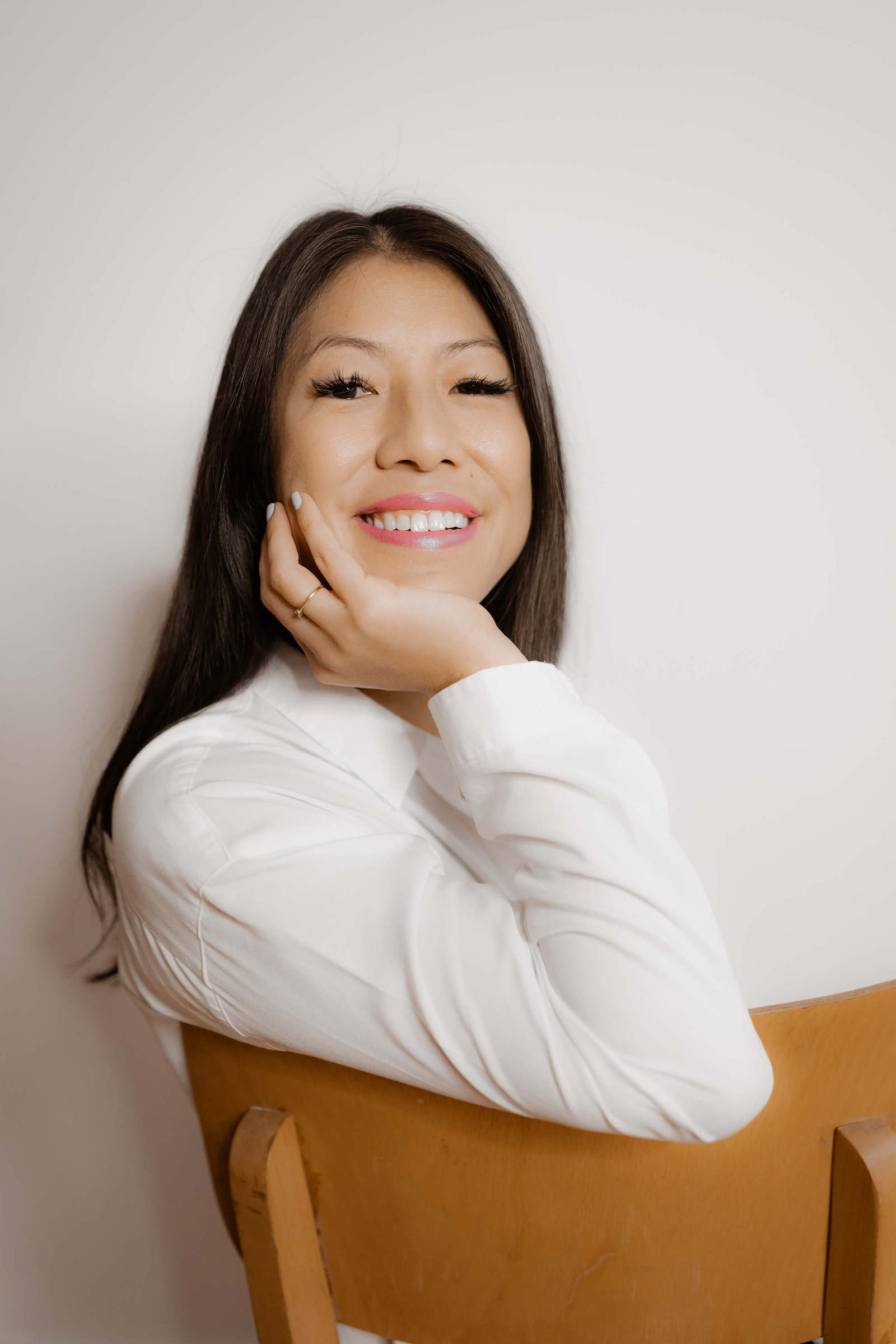 I'm a real human like you who's been through BIG ASS changes too. I've changed my career to follow my purpose, pivoted from scientist to project manager working in corporate, built two successful businesses, grieved the loss of both parents, moved from the US to Germany, traveled to 38 countries, and became a mom. To find out more about my life + work story, please see here: I am. 
I'm a professionally Certified Coach in Transformational Coaching, Positive Psychology Coaching, and Designing Your Life. I also bring you my change management, marketing, strategy, tech consulting, design thinking, and entrepreneurial experience to help you design the life + work you dream of. I'm trauma-informed and spiritually-minded too. I proudly coach with (& live by) the values of Authenticity, Empowerment, Empathy, Vulnerability, and Integrity.
How I Empower You
As an Empowerment Coach, I empower you to make BIG ASS changes & design the life + work you dream of.
During this period of massive global change, you might be waking up to the fact that despite uncertainty, you DO have personal power and agency to make life + work changes and stand up for what you want. YOU CAN. But you don't want to do it alone. You want someone to guide you, believe in your dreams, and cheer you on.
I hear you. Through private 1:1 coaching we'll create a safe compassionate space to go deep and explore your thoughts and feelings as you make BIG changes in your life. You'll gain more clarity, mindset shifts, valuable tools, a strategic plan, accountability, and confidence to empower you. You'll let go of limiting beliefs and behaviors that no longer serve you. And you'll take massive actions to design the life + work you dream of. I'm here for you.
My coaching style is Empathy Meets Empowerment. It's a balance of psychological and emotional, yet practical and actionable. You'll feel seen and held on our journey, yet experience BIG ASS tangible results and truly transform from the inside out.
What do you really want? What would it take to get there? And what's holding you back?
Wondering what it's like to work with me? I'm honored to work with my amazing clients. They are incredible humans. You can hear from some of them and their life-changing results below.
We Work on the Whole Human Together
Everything is connected, whether you want to see change in your personal or professional life. Making a career change? Building a new business? A personal move? Together we help you design the life + work that you dream of.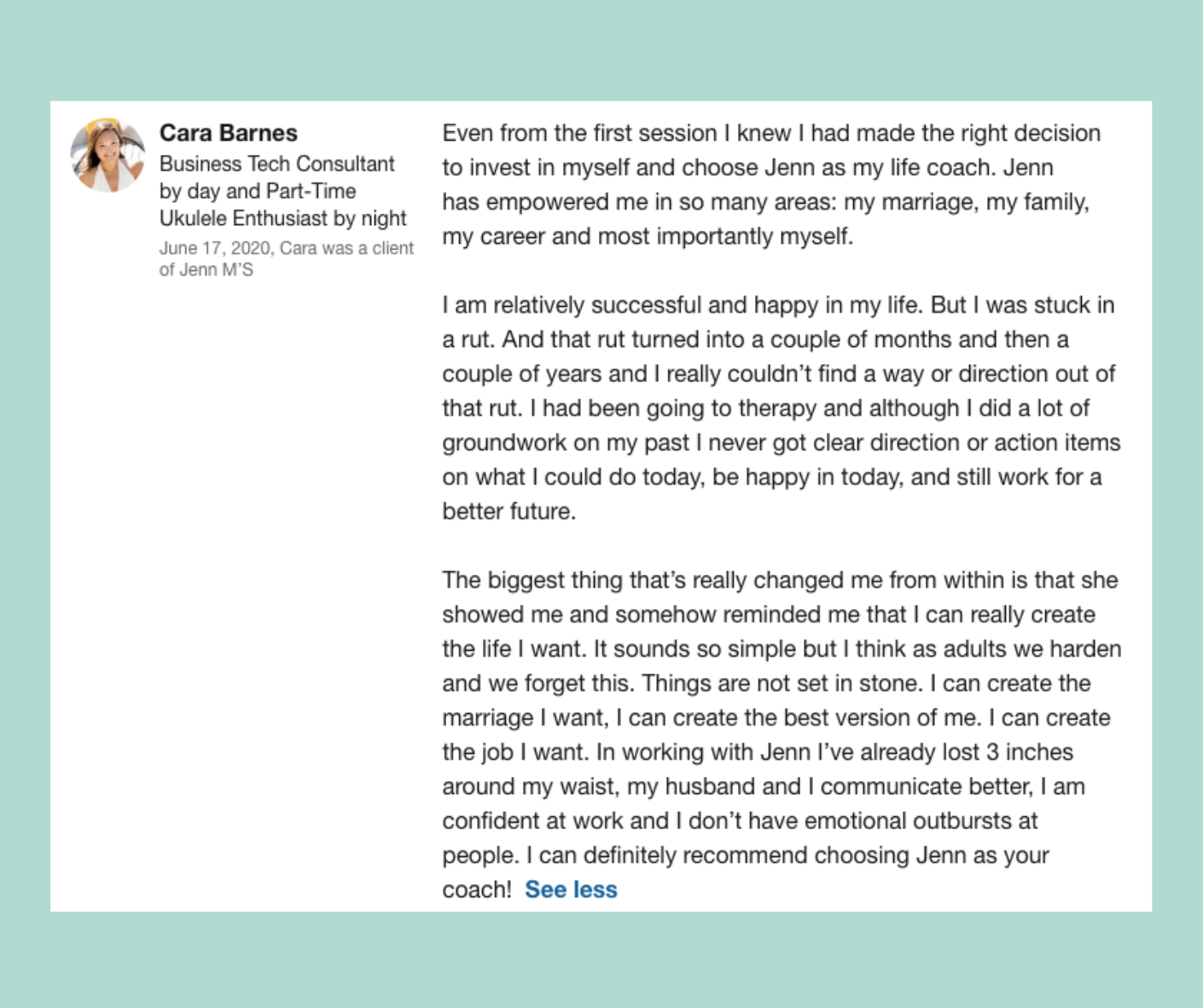 -Cara Barnes, Business Tech Consultant, San Francisco, USA
"
Throughout the coaching journey, Jenn gave me exactly the right tools to empower my
understanding of what makes me tick
and how I can fully embrace my strength in business and private life. The results after 3 months have been truly transformational--my personal relationships are stronger and more fulfilling, and I have a precise idea of where I want to take my business career. Overall, Jenn knows the lifestyle of an ambitious person and empathetically reaches deep within her clients to help
align their inner values."
"Working with Jenn was both a new and exciting experience. As a fairly new entrepreneur, I came in contact with business challenges that greatly impacted my personal life. Jenn was able to guide me in identifying why those two worlds were colliding and how to potentially separate them. Through relatable exercises, detailed questioning, and repeated reflection, I was able to dissect various aspects regarding my business and personal life goals.
I felt as if I was speaking with a confidant who gave space and offered the successful search of a new perspective and understanding.Through this deep exploration, and not merely surface questions, I have been so far rethinking the cause of certain feelings in building my business. In addition, I have been working at aligning my business with my personal life, regarding love, money, and communication.
Jenn is a great choice for a life coach due to her techniques and attention to small detail that we often look past.The effort to seek guidance will make small alterations that will result in a significant impact."
-Racquelle Lindsay, Founder, Lindsay Racquelle Stones, New York/Los Angeles, USA 
I Hold Space To Support You
As a coach, I hold compassionate space so that you feel listened to and supported, even when sh*t gets tough.

Get Unstuck & Move Forward With Action
If you're feeling stuck, what you might need is a Thinking Partner to help sort out your thoughts and move forward with a plan. As your Thinking Partner, I'll help you make sense of the bigger picture and take action.
"With her positivity and great listening skills, Jenn was able to help me transform situations and help me get unstuck. 
When we first started our coaching journey, I needed help deciding between different roads for my career. I had mixed feelings about the options and had also been overthinking the possibilities. Though I had in mind what I wanted for a more fulfilling career, I didn't know how to achieve it and how to get to my goal.
Through working with Jenn, I was able to make a decision and choose the entrepreneurship road, which was a major life change. By the end of our journey, my mindset shifted around moving from the safety of being employed to the unknown of being self-employed and preparing for the transition. Jenn asked me the right questions so that I could put things together, reframe, and gain clarity. Because of this organized approach, Jenn was able to help me connect the dots so that things could click together for me."
-Markus Balser, Founder & Yoga Teacher, Markus Balser Yoga, Berlin, Germany 
Everything You Need is Inside of You
I trust that you are resourceful and whole. I know that you CAN do what you set your mind and heart to. I'll help you find out HOW. We all have the answers we need deep inside--we just need help unlocking them.
let's work together on your dreams
I offer private 1:1 coaching online, so we can meet from anywhere in the world. 
1:1 Coaching programs
Ready to dive in and design the life + work you dream of? Then check out my 1:1 Empowerment Coaching programs (3 months+) and book a consultation. Tell me what your life + work dreams are, and let's make them come true.
Empower Hour
Want to get your feet wet and see what coaching is like with me? Then book a one-time Empower Hour. It's a perfect mix of professional transformational life coaching + a strategy session. 1 hour together, huge gains in your life.